On this page we feature other books that our readers might like, though not Shrewsbury Press publications.
An 18th Century cookery book modeled after and taken from those of the time period, this book is not only a compilation and compendium of cookery recipes, but also includes etiquette, cooking terms and definitions, information on items in season or in use in the colonies, utensils, measurements, what to eat during Lent, how to take care of someone sick, and how to set a proper 18th century table.  Available from Amazon or Etsy.
Initially aimed at boys but introducing by Book 3 a female character, this series is billed as "Adventures with a Twist of History".  In book 1, for example,  young brothers Derek and Sam, recently moved to Virginia, uncover the mystery of a valuable coin collection stolen from the local museum sixty years earlier and end up spending their summer running from danger and searching the woods, secret caves, rushing waters, and hidden passageways for treasure and the rare 1877 Indian Head cent coin! Later adventures involve  the Revolutionary, and Civil War, and late 19th century periods.  Top ratings on Amazon; also available from Barnes & Noble and audio version from iTunes.  You can see his website here.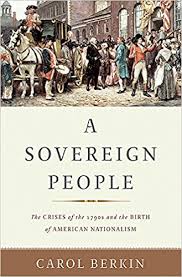 Interested in the history behind the mysteries?  If so, Carol Berkin's A Sovereign People is a must read!
Like Us on Facebook!