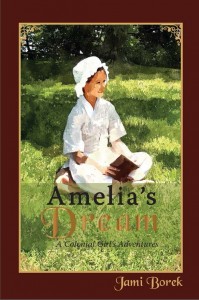 As an orphan, a servant, and worst of all, a girl, Amelia's dreams weren't very realistic for 1771 Virginia, but that wasn't going to stop her.  A sudden move from Fredericksburg to Colonial Williamsburg, however, brings drastic changes that upset her hopes and plans.
Amelia's Dream: A Colonial Girl's Adventures, the sequel to Amanda's Secret, likewise tells an engrossing tale in an authentically detailed historic context, appealing to readers of all ages but  especially suitable for young girls ages 8 – 12.
140 pages with 36 color illustrations. Available online in paperback from Amazon and Barnes & Noble, or ask for it at your favorite bookstore. Available wholesale from Ingram distributors or directly from Shrewsbury Press.  For direct sales, books signed by the author, and book signings, contact: info@shrewsburypress.com. ISBN 978-0991536658 (print) and 978-0991536641 (ebook).
For a sample chapter, click here – AmeliasDream_SneakPreview!
Like Us on Facebook!