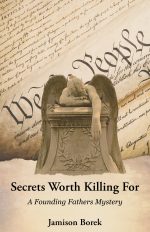 In 1797, everyone wants to know – is Thomas Jefferson really a murderer?
Secrets Worth Killing For  – A Founding Fathers Mystery
Praise from The Booklife Prize in Fiction –
"a terrific historical mystery"
      Bridget LeClair was a mere housemaid after all, so when she died of the yellow fever in the fall of 1797, no one paid very much attention – not, that is, until Thomas Jefferson was accused of killing her.
      Jefferson had secrets worth killing for, to be sure – his affair with his slave Sally Hemmings and his role (if the rumors were true) in Senator Blount's treasonous conspiracy. He wasn't the only one with dangerous secrets to hide, however. Poor Bridget was a magnet for scandal.
      Despite his best efforts to stay uninvolved, Senator Jacob Martin finds himself helping the Senate Doorman James Mathers discover Bridget's murderer. It is a task that wins him no friends, as he must unearth the scandals of some of the richest and most powerful men in the country. The political cost was as bad as Jacob had feared, but even worse was the damage to his budding relationship with Elizabeth Powel.
      Secrets Worth Killing For takes you back to the crisis-ridden years of the late eighteenth century, when the survival of the United States was still in doubt – when powerful enemies surrounded the fragile young nation like birds of prey and bitter internal conflicts threatened to tear it apart. Download a free pdf sample here!
   Read it in paperback or on your Kindle – now available from Amazon!  Contact us for wholesale orders – info@shrewburypress.com.
Like Us on Facebook!