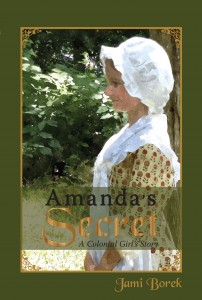 Twelve year old Amanda seems to have everything any girl could ask for — a nice plantation home just outside of Williamsburg, loving parents, even a brand-new grown-up ball gown for the upcoming Twelfth Night ball. It's like a dream – and like a dream, she will all too soon awaken. Little does she know, the ball will be the last night of life as she's known it, thanks to a mean-spirited servant who reveals a long-buried secret about her past.
Set in 1770's Colonial Williamsburg, Amanda's Secret: A Colonial Girl's Story is a heartwarming story appealing to readers of all ages but especially suitable for young girls ages 8 – 12.
127 pages with 28 color illustrations. Read it in paperback or on your Kindle – now available from Amazon or ask for it at your favorite bookstore. For wholesale orders and other inquiries, contact: info@shrewsburypress.com. 
Click here for a sample chapter- Amanda'sSecretSample !
Educational Resources:
If you're interested in questions for further study and discussion, click here – Study Questions for Amanda's Secret.
A number of other educational resources for younger readers, including information on other books, online resources, and historic places to visit, can be found on our page Additional Resources for Younger Readers and the page Historic Museums & Sites, Mid-Atlantic on the website Eighteenth Century Resources.
Like Us on Facebook!