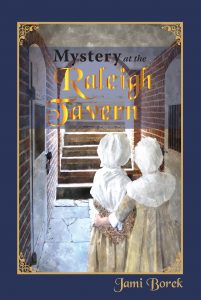 When Thomas Jefferson's violin is stolen at the Raleigh Tavern, he's worried, and not just about his violin. The violin case also contained some notes he's written saying treasonous things about the King. The thief must be found, and quickly, but the Sheriff thinks he already knows who the thief is – and he's arrested Amelia's best friend.
Meanwhile other fateful events are taking place. In the aftermath of the Boston Tea Party, Jefferson and others are meeting at the Raleigh Tavern to decide how to protest the Parliament's actions and protect their rights. There is strange, troubling talk of something called "independence" – talk that will change Amanda and Amelia's world forever more.
"The author maintains a sense of urgency throughout and drops just enough clues to keep the readers turning pages. . . . This book is ideal fare for middle-grade readers." – Critic's Report, The BookLife Prize
Mystery at the Raleigh Tavern is the third in the popular Colonial Girl series, a charming tale set in an authentically detailed historic context. This series appeals to readers of all ages who like a heartwarming tale and is especially beloved by young girls ages 8 – 12.
146 pages with 25 color illustrations. Read it in paperback or on your Kindle – now available from Amazon or ask for it at your favorite bookstore. For wholesale orders and other inquiries, contact: info@shrewsburypress.com. 
Like Us on Facebook!