Colonial and Revolutionary Virginia – a few websites and additional sources of historic fiction for further education and for fun
Websites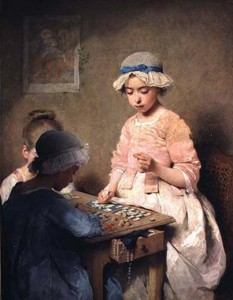 http://www.history.org/kids/index.cfm– Colonial Williamsburg's "Kids Zone"- lots of fun things.
http://www.mountvernon.org/educational-resources/for-students – Mount Vernon's website pages for students includes videos, searchable digital encyclopedia, virtual tour.
http://www.gunstonhall.org/index.php/education-research/teachers – From Gunston Hall, fun activities and lesson plans about George Mason, the Bill of Rights, and aspects of 18th century life.
http://www.monticello.org/ – The website of Monticello, home of Thomas Jefferson, has enormous detail on Jefferson and his times.
Historical Fiction
Amanda's Secret – living on a plantation near Williamsburg, twelve-year-old Amanda is excited to be going to her very first Twelfth Night Ball. Little does she know, however, that her life is about to change forever – a twelfth night charm and a spiteful servant send her on a quest to find out the truth about her past, a secret that's been hidden from her all along.
Caesar's Story: 1759 – part of the Colonial Williamsburg Young Americans Book Series, this tells the story of young Caesar, a slave, who wants to be with his family but when the master selects him to be a personal servant in the big house, Caesar has to obey. Others in the series – Nancy's Story: 1765, Will's Story: 1771, John's Story: 1773, and Maria's Story: 1775.
Meet Felicity – in the first of the American Girl Felicity series, Felicity falls in love with a horse and names her Penny. But Penny is owned by a cruel man who beats his animals. When Penny's life is in danger, Felicity knows she must help.
Shadows in the Glass House – part of American Girl's History Mystery series, this tells the story of twelve-year-old Merry Shipman, kidnapped from the streets of London and taken to the Jamestown Settlement in 1621. She's put to work making glass – the most magical thing she's ever seen. Problems arise, however, when a midnight intruder makes trouble and tries to frame her only friend.
The Sign of the Beaver – Although he faces responsibility bravely, thirteen-year-old Matt is more than a little apprehensive when his father leaves him alone to guard their new cabin in the wilderness. When a renegade white stranger steals his gun, Matt realizes he has no way to shoot game or to protect himself. When Matt meets Attean, a boy in the Beaver clan, he begins to better understand their way of life and their growing problem in adapting to the white man and the changing frontier.
More Reading Ideas (Educational and Library Booklists)
http://www2.punahou.edu/Libraries/bishop/HistoricalFictionBookLists.htm
http://multcolib.bibliocommons.com/list/share/135258321_multcolib_kids/345294757_multcolib_kids_picks_history_in_fiction_-_colonial_amp_revolutionary_america
http://www.glendaleca.gov/government/departments/library-arts-culture/children/subject-book-lists/united-states-colonial-period
Like Us on Facebook!