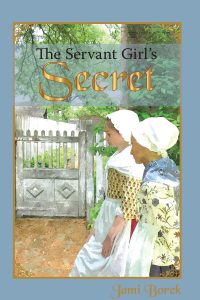 Josephine is in serious trouble. People are saying that she's poisoned one of the Raleigh Tavern maids. The maid was terribly sick, it's true, but Josephine is innocent. Amanda, Amelia, Jacob, and Penney are totally sure of that.
What they think, though, isn't enough to save her. They need to find out why the maid got so ill. Josephine's so mad that she won't even talk about it. So they've got to solve the mystery on their own.
Meanwhile, tensions are rising in Virginia and all the other colonies. Opinions are divided and strong. Some say declaring independence is treason. Some say it's the only way to be free. Even Amanda and Amelia are arguing, like they've never argued before. Both of them are very worried, as no one knows what the future holds.
The Servant Girl's Secret is the fourth in the popular Amanda and Amelia series. The series appeals to people of all ages, but is aimed especially at middle-grade readers 8 – 12. It is set in 1775 Colonial Williamsburg, Virginia, when the American Revolution has just begun.
142 pages, with illustrations. Available from Amazon or ask for it at your favorite bookstore. Download a Sample here – or a Kindle sample on Amazon.
For wholesale orders and other inquiries, contact info@shrewsburypress. com. 
Like Us on Facebook!