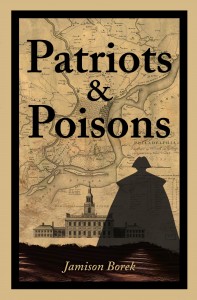 Is John Adams conspiring to murder Thomas Jefferson? Shocking allegations are being made in the wake of a waiter's death at George Washington's farewell dinner — that Jefferson was the intended victim instead of the waiter, the target of a deadly political assassination plot.
As the United States slides toward chaos and civil war, Senator Jacob Martin races against time to find the answers, in order to save the nation, his own precarious future, and the woman he loves.
Patriots and Poisons: A Founding Fathers Mystery, an engaging mystery full of historically accurate and vivid detail, takes you back to 1797 Philadelphia, a critical time in United States history when people could still ask the question seriously, whether declaring Independence was a terrible mistake. Now available in paperback or ebook format from Amazon online or ask for it at your favorite bookstore. Wholesale distribution via Shrewsbury Press or Ingram. ISBN 978-0991536634 (print) and 978-0991536627 (ebook).
For a sample chapter, click here – PatriotsandPoison_Sample!
Interested in the historical background of this book? Check out the Historical Notes and Selected Booklist!
Like Us on Facebook!